This article was originally published for The Boar. It can be seen to expand on a previous piece I compiled on Sandler back in June 2012.
Adam Sandler is something of an enigma. Even going back to his time on Saturday Night Live (he lasted five years before being ousted in 1995) Sandler was incredibly divisive, with the split tending to emerge between cultural voices and audiences. This truth has sustained through Sandler's remarkably successful filmic career, until now.
His African set romantic comedy Blended has opened to foul reviews, but more worryingly for Sandler, a tepid $14 million haul. That's the second lowest opening of his career as a leading man (That's May Boy made an even softer debut in 2012), and suggests that whatever goodwill audiences have harboured toward Sandler is finally depleting. The quality of his comedic output has also declined, reaching a nadir with last summer's loathsome Grown Ups 2. The sequel wasn't just an unfunny or tedious miscalculation like some of the performer's prior duffers (and there's been a few), but rather a rancorous acid-bath of anti-plot, seemingly envisaged as revenge against the public who at one point allowed him to command a higher salary than Harrison Ford. Why is that? Audiences have clearly become attuned to the fact Sandler no longer cares, but what triggered his mounting disdain for them in the first place?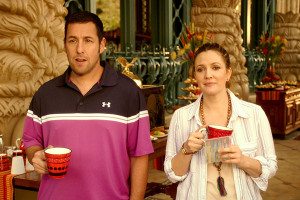 There's always been an undercurrent of anger to Sandler's work. Billy Madison is the story of an alcoholic wastrel who holds a lucrative business empire to ransom. Happy Gilmore amounts to the painful odyssey of a man riddled with anger issues, failing to cope with the death of both his father and dreams. The Waterboy looks at the damaging effects maternal smothering and isolation can have on a person (sounds a bit like a movie Hitchcock made in 1960). And those are some of Sandler's more beloved outings. Losers and hardship have proven a key commodity in Sandler's oeuvre; rendering his craft accessible to a conservative western audience and helping the actor himself work through some of his own insecurities. In the public eye Sandler has never been at ease. He gets cagey in interviews (and won't even consent to doing them in print) and uncomfortable when discussing anything other than cinema. In a 2007 appearance on the Jonathan Ross show, Wossy enquired about Sandler's newfound role as a father. It was a simple, normal request, one the host has posed painlessly to countless guests over the years. But not for Sandler. Without upsetting his aura of affability, Sandler began to back-track, turning the dialogue into a dick joke, dodging the opportunity to appear vulnerable with a frat-boy façade. It's just one example of Sandler struggling with his own fame. This at least goes some way to explaining the dark overtures and rage often inherent to his comedy, but why has the comedy itself suddenly become so lame?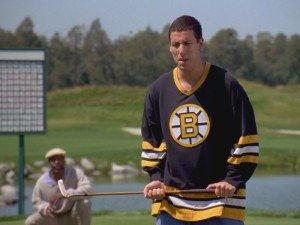 During the noughties, Sandler began to advance into more dramatic territory. His collaboration with Paul Thomas Anderson, Punch-Drunk Love, is a gem, probably the celebrated auteur's most underrated feature. Underrated and underseen. In 2007 he gave a striking turn in the otherwise unremarkable 9/11 drama Reign Over Me, in one particular scene leaving his co-stars in the dust as he gives a devastating monologue on the personal effects of the tragedy. Nobody turned out to see it. Then in 2009 he gave a brave and self-aware performance in Judd Apatow's Funny People, playing a cynical and depressed mirror image of himself. It's the most truthful Sandler has ever been on screen, yet we rejected him, the film marching on to be one of that year's larger flops. Just twelve months later Sandler starred in Grown-Ups, a lazy amalgamation of fart gags and grossly inflated paycheques. It stands as one of the biggest hits of his career. How can an artist be expected to retain a healthy working relationship with his audience when they refuse to let him stretch, applauding him when he belches but ignoring his measured attempts at soliloquy? The failure of Funny People was likely the last straw, the performer visiting a pestilence of terrible movies upon us as punishment.
He's an appealing comedic voice, a yahoo with an old-timey devotion to the art of silliness.
I should state that I like Sandler. I'm a big fan of the reckless surrealism of flicks like Billy Madison, Happy Gilmore and even the impossibly vulgar That's My Boy. He's an appealing comedic voice, a yahoo with an old-timey devotion to the art of silliness. But that unrestrained mania has now dissipated into nothingness. The failure of Blended may yet prove beneficial; after all, Sandler has collaborations with Thomas McCarthy and Jason Reitman in the pipeline. Prospects that actually encourage hope rather than a sigh. And here's what I urge you to do. Go and see them. Embrace the actor's attempts to expose something of his true self, to articulate his angst through a capable dramatic skillset. Reward Sandler for trying and acknowledge his bolder choices. Otherwise we may be doomed to a future littered with Grown-Ups continuations, and the whimpering demise of one of our generation's key comedians. If we allow Peter Pan to grow-up, then just maybe we can finally understand what makes him tick.
Originally published by The Boar 25/06/14.
An article by Daniel Kelly, 2014